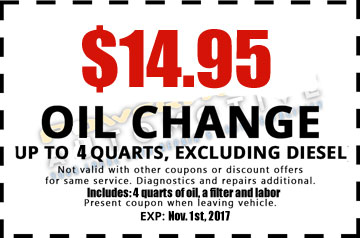 Fall is a great time to get an oil change and maintain your car for the upcoming cold winter season. Get an oil change, for a limited-time only. The cost is only $14.95 (+tax) and includes up to 4 quarts of oil, a filter and labor. This is our back-to-school, fall special that is offered at Jefferson Auto Repair in West Orange, NJ. So, come and get it while you can. This fall oil special won't last long because this it expires Nov 1st 2017.
Is this a great deal or what? This fall oil special is a huge deal. Some people say it's remarkable. Where else can you get a deal like this? So, make sure to tell all your friends, family, and associates about this great offer at Jefferson Auto Repair in West Orange, NJ.
To sum up, don't wait until Nov 1st to get your oil special at only $14.95 (+tax) that is offered by Jefferson Auto in West Orange, NJ. Your car deserves it and you don't want to damage the engine due to friction. You want to take advantage of this great deal before its' gone. So, come to Jefferson Auto Repair today, call or Facebook message us, or simply email us to get this fantastic deal. You will not find a better price or place to take care of your car's auto maintenance right here in West Orange, NJ.
Print this coupon and bring it in to receive this deal.
Contact us via email if you wish to schedule your $14.95 oil change - http://jeffersonautonj.com/contact-us.html.