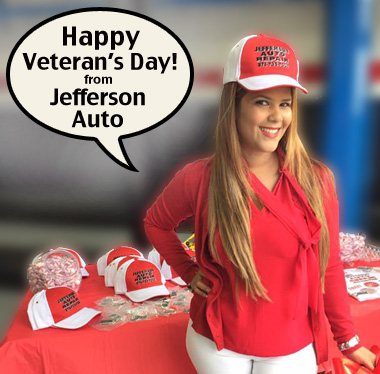 Thanks to all Veterans who served our country; we wish to honor you on this special Veterans Day! We hope that everyone is having a wonderful Veterans Day weekend! On an event like this, people might travel to far places to celebrate Veterans Day. Then, out of nowhere, your car gives out on your way to events like the Veterans Day parade. We are here to help all Veterans with their auto repair needs.
We at Jefferson Auto Repair in West Orange, NJ have a superb and reliable towing service as well. So, if your car gives out on you while you and your family are on your way to the Veterans Day celebration, our auto mechanics at Jefferson Auto Repair will be there right away to make sure that you and your family make it to that celebration.
With this wonderful towing services that we have at Jefferson Auto Repair in West Orange, NJ, our professional auto mechanics will have your vehicle up and running again so that your Veterans Day weekend will go on with out any more problems.