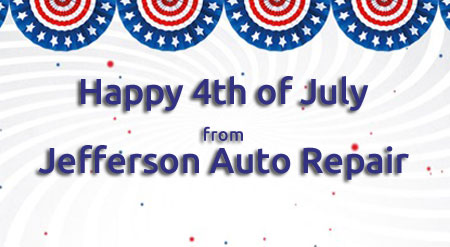 Fourth of July or (Independence Day) is just around the corner. It's a federal holiday in the United States that commemorates the Declaration of Independence that happened on July 4, 1776. Which helped the Continental Congress declared to say that the thirteen American colonies have regarded themselves as a new nation, which is the United States of America.
Due to the high temperatures typical of 4th of July holiday season, automobiles tend to brake down more on the road. That is where our auto mechanics can save the day.
We at Jefferson Auto Repair in West Orange, NJ have reliable towing and roadside service for your 4th of July holiday need.
Jefferson Auto Repair in West Orange, NJ wants all of our customers to have a safe 4th of July week. We know that this is the time when people are traveling on the road to enjoy the 4th of July event. And we want them to be safe when they go watch fireworks, see parades, have barbecues, go to carnivals and fairs, have picnics, enjoy a concert and a baseball game, even have fun at family reunions.
So, if your driving to any 4th of July event in your car and it brakes down on you. Do not worry! Our auto repair mechanics here at Jefferson Auto Repair in West Orange, NJ will come to your aid with our roadside service and towing service, if necessary.