Jefferson Auto Repair Wish You a Happy Thanksgiving!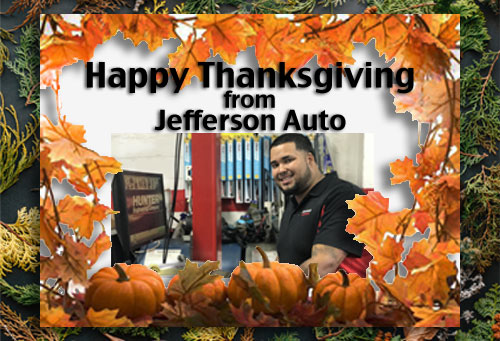 Are you going away for Thanksgiving weekend? Then remember to stop on by Jefferson Auto Repair in West Orange, NJ to make sure that your vehicle is up to date with everything that it needs to have done so that you can have a safe Thanksgiving weekend trip.
More than 54 million Americans here in the U.S. are expected to travel this Thanksgiving weekend. So, before you start to head out for your holiday travels, make sure you stop on down to the auto repair shop at 356 Valley Road West Orange, NJ. The owner, Juan, and his team of auto repair mechanics will make sure that your vehicle is in good condition for you to use when you go down the highway this upcoming Thanksgiving weekend.
We here at Jefferson Auto Repair want to wish everyone in the Essex County, NJ area a happy Thanksgiving. We know it's that time of the year to spend with all of our family members and friends and to be thankful for all the things that bring us closer together. And remember, we want all our clients to have a safe time on the road this Thanksgiving weekend. May the holiday spirit always be with you. We wish you a harvest filled with lots of blessings and good health.
And, don't forget we also service the following Essex County, NJ areas: East Orange, NJ/ Orange, NJ/ South Orange, NJ/ West Orange, NJ/ Cedar Grove, NJ/ Montclair, NJ/ Verona, NJ/ Maplewood, NJ/ Livingston, NJ/ Bloomfield, NJ/ West Caldwell, NJ/ Nutley, NJ
Contact us or call us at 973-736-7008 to have an auto service appointment done!