Happy Holidays to all in Essex County, NJ from Jefferson Auto Repair!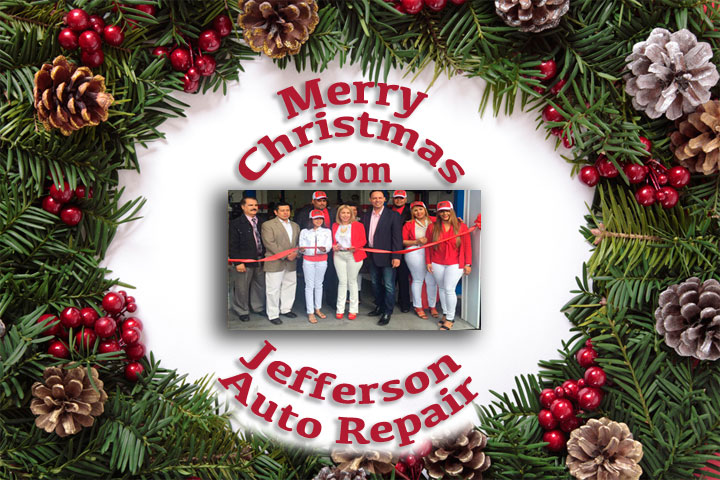 Jefferson Auto Repair in West Orange, NJ wants you to enjoy this Holiday Season and to have a great time with your family and friends. The owner, Juan, and his auto repair mechanics want to let all their customers know that Jefferson Auto Repair has reliable roadside and towing services for everyone's vehicle during this Holiday Season.
We know that it is not uncommon to see lots of rain, sleet or even snow during this time of the year in the Essex County, NJ area. When it comes to the roads in the wintertime, weather can cause harsh and icy conditions, which are a really big concern. With our towing and roadside services, Jefferson Auto Repair offers the following:
Towing Service
• Vehicle towing within Essex County area
• Battery jumpstarts


Roadside Service
• Battery jumpstarts
• Lockout services
• Tire changes
• Fuel rescue

Our auto repair mechanics at Jefferson Auto Repair in West Orange, NJ is very proud to have served satisfied customers year after year and we can't wait to do it again for this upcoming New Year as well. Here is a comment that one of our clients said about us. John M. of West Orange, NJ said,
"I am so pleased with the honesty demonstrated by the auto repair mechanics at Jefferson Auto Repair in West Orange, NJ. I brought to them one of our 3 family vehicles and when they inspected the underbelly and chassis of the vehicle, both auto mechanics Jhoan & Manuel, agree unanimously that it was not worth spending the money to repair it. More importantly, they explained that it wasn't safe to drive, either. Some other auto repair mechanics may have simply taken the job to earn their company more money. But, I was impressed and thankful that they conducted themselves with professional integrity. I will continue to use their auto repair services and would highly recommend their honesty, high integrity, and good business ethics to anyone I know."
We hope to continue providing all our customers in Essex County, NJ with the best customer service. We want all our customers to have a safe trip during the Holidays. On behalf of the entire team at Jefferson Auto Repair, we wish you and your family a safe and happy Holiday this season!
And, don't forget we also service the following Essex County, NJ areas: East Orange, NJ/ Orange, NJ/ South Orange, NJ/ West Orange, NJ/ Cedar Grove, NJ/ Montclair, NJ/ Verona, NJ/ Maplewood, NJ/ Livingston, NJ/ Bloomfield, NJ/ West Caldwell, NJ/ Nutley, NJ
Call us at 973-736-7008 or email us
to have your Vehicle Ready for the Winter Holiday!