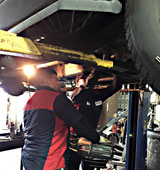 Jefferson Auto Repair is Great at Fixing and Repairing Cars
If you need any auto repair done for your car, then look no farther than the auto mechanics at Jefferson Auto Repair. They will make sure to take their time to look at what's the problem with your car. And they will even make sure that your car will run without any type of auto repair problems.
Customers have been coming to Jefferson Auto Repair in West Orange, NJ because they have been servicing the community for over 20 years.
The auto mechanics at Jefferson Auto Repair will make sure that everything is ok with your car before you leave. And, if they need more time to work on your car they will give you a call in advance to let you know when your car will be ready for pick up or if you can't come to get your car they will be happy enough to drop it off for you whether you live in Orange, NJ, East Orange, NJ, West Orange, NJ, or any of the other towns that they serve in.