Happy Thanksgiving from Jefferson Auto Repair in West Orange, NJ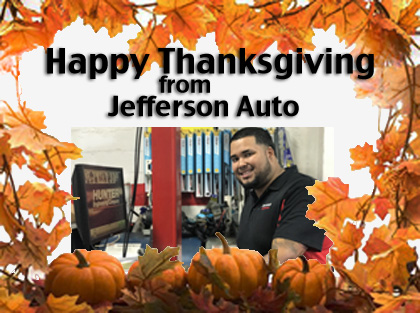 Up to 51 Million Americans will travel this Thanksgiving Holiday weekend. This is the highest volume in over a dozen years. Holidays like Thanksgiving Day are holidays that statistically cause a lot of people to drive and travel on the road. Statically speaking, millions of American's hit the roads during Thanksgiving holiday.
So, be sure that your car has been maintained properly and all the necessary preparations have been done including alignment, tire balancing, brakes and your auto's tire treads are all in good condition. Keep in mind, that if you get stuck or disabled on the road, Jefferson Auto roadside service and towing service are available to help you.
We want to wish everyone a happy Thanksgiving. We all know that Thanksgiving is a time to be with family and friends on this special day and to be thankful for all the things that we have. We also know that November can be a great time to remember all your loved ones and even embrace those who have enriched your lives.
We want all our customers to have a safe journey on this Thanksgiving weekend. May the holiday spirit be with you at this time of the year. And, we wish you a harvest filled with lots of blessings and good health.
Click here to contact us and to schedule an auto service appointment