Jefferson Auto Repair Services Engine Tuning for Montclair, NJ, Essex County, NJ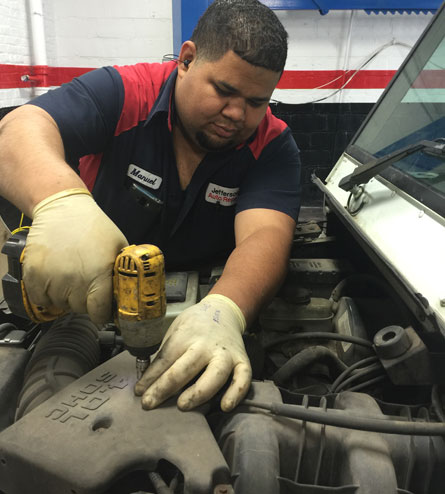 What is Engine tuning you may ask? It's an adjustment or a modification of the internal combustion engine or its control unit. It's also known as the ECU (Engine Control Unit). This helps your vehicle adjust to its optimal performance. Specifically, it increases your vehicle's engine's power output, economy, and durability. Jefferson Auto Repair in Montclair, NJ cares about serving their customers in the township of Montclair, NJ and Essex County, NJ. The auto mechanic team at Jefferson Auto Repair by helping them get their engines tuned-up.
Jefferson Auto Repair understands the importance of keeping your car at top performance. Drop off your vehicle and Juan along with his auto mechanics team will diligently work on ensuring we meet your automobile needs. The quality of auto repair work at Jefferson Auto Repair will leave you feeling confident and safe while driving on the road.
Engine tuning is a routine auto repair service conducted to yield optimal performance and is completed to meet the manufacturer's specifications. A tune-up includes the following:
1. The adjustment of the carburetor, idle speed and also the air-fuel mixture
2. Inspection and the possible replacement of the ignition system components for example, like the spark plugs, contact breaker points, distributor cup and even the distributor rotor.
3. By replacing the air filters
4. Emission controls inspections
5. Valvetrain adjustments
These tune-up steps allow your engine to run smoothly and properly. So, next time you need an engine tuning, choose Jefferson Auto Repair in West Orange, NJ.
Additionally, we offer reliable towing services and roadside assistance to service all the areas of Montclair, NJ, and Essex County, NJ.
Click here to get your engine tuning done
East Orange, NJ | Orange, NJ | South Orange, NJ | West Orange, NJ | Cedar Grove, NJ | Montclair, NJ | Verona, NJ | Maplewood, NJ | Livingston, NJ | Bloomfield, NJ | West Caldwell, NJ | Nutley, NJ