Clutch Repair & Replacement Service at Jefferson Auto Repair in West Orange, NJ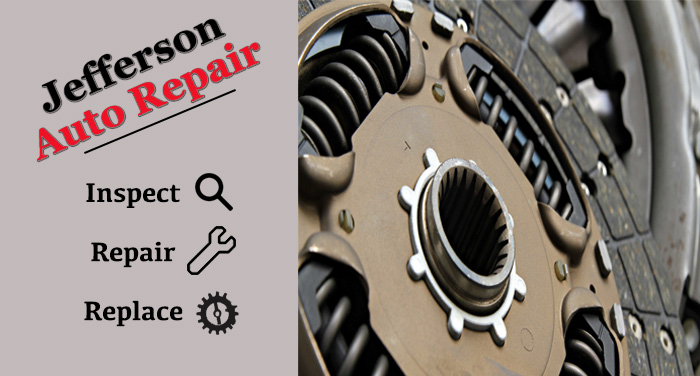 Many people think that the clutch in your vehicle is just the pedal to the left part of the brake. While this is partially true, do you know what role the clutch plays in keeping your vehicle driving well? Let's take a look at how the clutch works.
The engine of your vehicle is designed to constantly spin while it's turned on. If the engine stops spinning, the vehicle will automatically shut down. The transmission in your vehicle transfers that motion to the drive shaft and, in turn, to the wheel of your vehicle. The clutch transmits the torque from the engine to the drivetrain. It smoothly delivers the power from the engine to reduce drive-related vibration. The most important job of the clutch in your vehicle is to disengage the transmission from the motor so that you can shift the gears without grinding.
Imagine driving on the open road and suddenly your clutch starts giving you issues. The clutch in your vehicle wears out over time, however, a simple repair can fix this. Our auto repair mechanics will perform the following on your vehicle:
• Inspect clutch
• Repair clutch
• Replace clutch
Are you in need of clutch repair and replacement services? If so, bring your vehicle to Jefferson Auto Repair in West Orange, NJ. We can evaluate your vehicle and make sure it's working properly so that next time you hit the road, you are well prepared.
Clutch repair and replacement are just some of the many services Jefferson Auto Repair in West Orange, NJ offers. Trying to get somewhere? Don't get stuck on the road. In addition to clutch repair and replacement, we offer roadside assistance and towing services as well. Call Jefferson Auto Repair in West Orange, NJ at 973-736-7008 or email us for reliable roadside and towing assistance in Essex County, NJ.
Safety is our top priority! The auto repair mechanics at Jefferson Auto Repair in West Orange, NJ provide clients with top-notch service. Just take a quick look at what our clients have to say.
"I was worried about the strange sounds my car was making. But after having it serviced by your company it is back to running smoothly and it didn't even cost that much! Your technicians are very helpful and friendly and explained everything in a way that I could understand. I will be recommending your services to friends. Thanks Guy!"
Contact Jefferson Auto Repair in West Orange, NJ and Essex County, NJ today to assist you with your clutch repair and replacement needs along with other services we offer.
Click here to get your Clutch Repair & Replacement
East Orange, NJ | Orange, NJ | South Orange, NJ | West Orange, NJ | Cedar Grove, NJ | Montclair, NJ | Verona, NJ | Maplewood, NJ | Livingston, NJ | Bloomfield, NJ | West Caldwell, NJ | Nutley, NJ