Jefferson Auto Repair in West Orange, NJ wishes you and your family a Happy Holiday Season!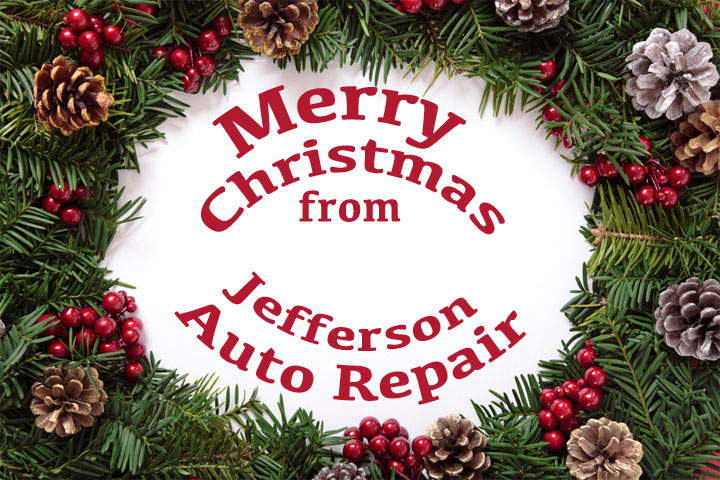 We at Jefferson Auto Repair in West Orange, NJ hope that you are enjoying this holiday season and are having a great time with your friends and family. Throughout the holiday season, Jefferson Auto Repair in West Orange, NJ wants to make sure that your vehicle has everything that it needs so that you and your family members can be safe on the road. They say that 100 million people will be traveling about at least 50 miles away from their homes this holiday. Jefferson Auto Repair in West Orange, NJ provides reliable roadside and towing services for your vehicle this holiday season.
It's not uncommon to see lots of rain, sleet or snow during the winter holiday period. The road conditions in the winter can cause ice roads and safety can be a concern. Jefferson Auto Repair knows it's important for tow truck drivers to remain safe while helping others. That's why our tow truck operators will drive to the scene and transfer the vehicle onto the tow truck carefully with our workplace safety policies in mind. Services we offer are:
• Towing Services
• Roadside Services
• Car Battery Jumpstarts
• Lockout Services
• Fuel Rescue
• Flat Tire Services
• Car Tire Nail Removal Services
People breakdown at all different times of the day throughout the year, even during the holidays. We are always here to make sure that people are taken care of. The auto repair vehicle staff members at Jefferson Auto Repair in West Orange, NJ recognize that your continued support has led to our success. Our staff at Jefferson Auto Repair in West Orange, NJ is proud to have served satisfied customers year after year and we look forward to continuing our success and achievements. Our auto repair staff members would like to wish our customers a very Happy Holiday Season.
We love hearing customer feedback. We are always looking at ways to better serve our community. Linda E. said "I have been a customer of Jefferson auto repair since it opened. I have received professional service. The staff is warm and friendly. I have recommended their service to numerous family members and colleagues. Thank you for your dedication to your customers."
In order to show you how much we appreciate your support, we are giving away two 50% discount coupons to every customer who has an existing subscription to our 3-month package. You can use these coupons yourself. You can also give them out to your friends and family and spread the love.
We hope to continue providing all our customers with the best customer service. We want all our customers to have a safe trip during the holidays. On behalf of the entire team at Jefferson Auto Repair, we wish you and your family a safe and happy holiday this season!