Happy Easter From Jefferson Auto Repair in West Orange, NJ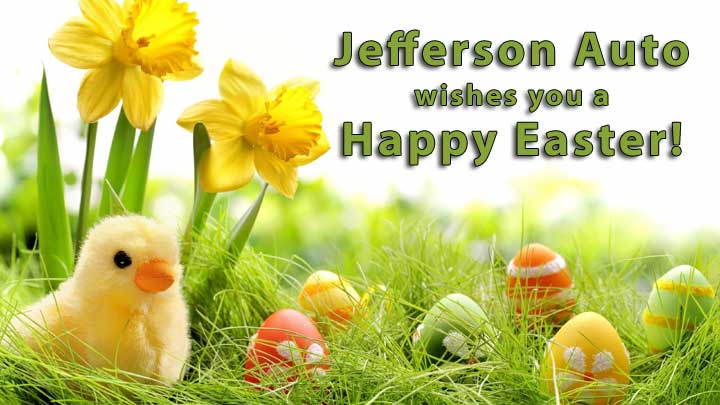 The auto repair mechanics at Jefferson Auto Repair in West Orange, NJ wishes everyone a Happy Easter Sunday. Easter is the time of year where people spend time with family and friends, often times, doing a number of fun activities. One common Easter activity is an Easter Egg Hunt. During an Easter Egg Hunt, family and friends paint Easter eggs and hide them for children to find.

Another great activity your family and friends can do on Easter weekend is to share special thoughts or Easter poems with one another. The reason why Easter poems can be great to use is that you can give it to your parents, associates, colleagues, or even your friends. In addition, it's also a great activity for children.
Here Are Festive Flowers for Your Room
Here are festive flowers for your room,
A spray of springtime on your bare night table:
Placed upon a place within your view;
Placed where best to light your harried heart.
Yet my blossoms can't dispel your gloom,
Even were they many times more able:
All that gifts from loving friends can do
Sings just one unaccompanied inner part.
The music cannot come from aught but you,
Evangelist beside the empty tomb
Rejoicing with all innocence and art.
Copyright by Nicholas Gordon

Everyone at Jefferson Auto Repair in West Orange, NJ would like to wish all their customers a delightful Easter weekend.

Many people are traveling by car this Easter holiday weekend, so please be sure to drive safely. If you're traveling with your vehicle and it becomes disabled, Jefferson Auto Repair in West Orange, NJ can help you with any auto repair mechanic issues that arise. They also offer reliable towing and roadside service as well. They service all customers living in the Essex County, NJ area: East Orange, NJ, Orange, NJ, South Orange, NJ, West Orange, NJ, Cedar Grove, NJ, Montclair, NJ, Verona, NJ, Maplewood, NJ, Livingston, NJ, Bloomfield, NJ, West Caldwell, NJ, and Nutley, NJ.