Details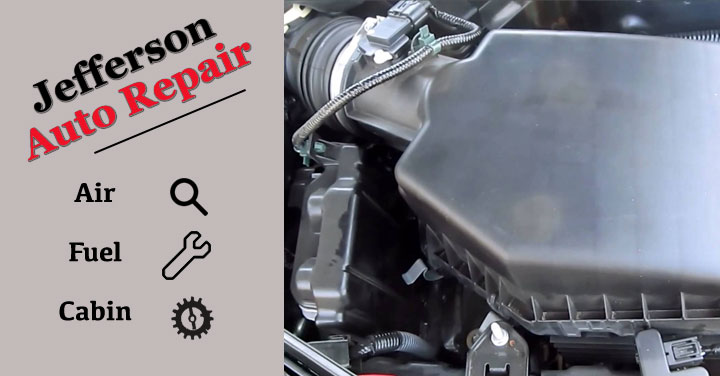 Filter replacements are one of the best and lest expensive service performed on your vehicle. As you add more miles onto your vehicle, your engine's air filter is destined to become clogged with debris. This is why it's so important to maintain a clean air filter.
Benefits to consider for maintaining a clean air filter:
• Increased gas mileage
• Reduced emissions
• Optimal air flow
• Improved engine performance
In addition, changing your air filter regularly will help prevent the engine parts from excess wear and damage, if an air filter is not maintained properly, it can result in driver ability issues and potentially expensive engine repairs. Air Filters, Fuel Filters and Cabin Filters are important components of your vehicle. Jefferson Auto Repair in West Orange, NJ acknowledge these three filter replacements and their value to your vehicle
Air filters should be inspected regularly and replaced when showing signs of debris and dirt. Typically, they are easier and less expensive filters to replace. A Dirty Air Filter can easily reduce the fuel economy by an average of 2-4 miles per gallon. Having a clean air filter could almost pay for itself within the first week or so!
Read more: Jefferson Auto Repair in West Orange, NJ Offers Filter Replacements
Details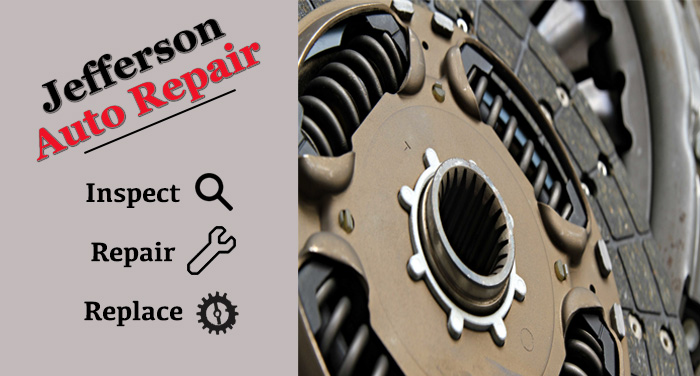 Many people think that the clutch in your vehicle is just the pedal to the left part of the brake. While this is partially true, do you know what role the clutch plays in keeping your vehicle driving well? Let's take a look at how the clutch works.
The engine of your vehicle is designed to constantly spin while it's turned on. If the engine stops spinning, the vehicle will automatically shut down. The transmission in your vehicle transfers that motion to the drive shaft and, in turn, to the wheel of your vehicle. The clutch transmits the torque from the engine to the drivetrain. It smoothly delivers the power from the engine to reduce drive-related vibration. The most important job of the clutch in your vehicle is to disengage the transmission from the motor so that you can shift the gears without grinding.
Imagine driving on the open road and suddenly your clutch starts giving you issues. The clutch in your vehicle wears out over time, however a simple repair can fix this. Our auto repair mechanics will perform the following on your vehicle:
Read more: Clutch Repair & Replacement Service at Jefferson Auto Repair in West Orange, NJ
Details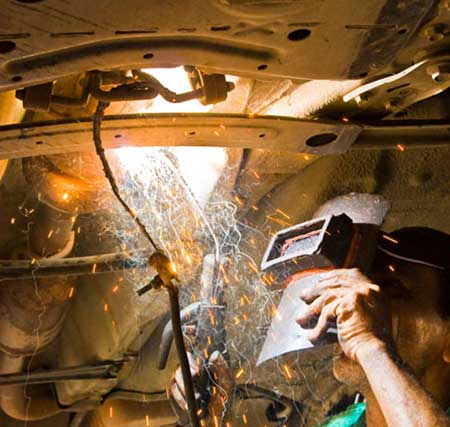 You're driving and all of a sudden you think you smell exhaust fumes coming from your vehicle, what should you do? Exhaust fumes in the cabin of a vehicle should be inspected and repaired immediately. At the very first sign that your exhaust starts leaking, bring your vehicle in for inspection to Jefferson Auto Repair in West Orange, NJ.
The exhaust system of your vehicle's engine is located under the rear of the car. The muffler helps reduce the amount of noise produced by your engine. It also controls the back-pressure of the engine, which improves the endurance and performance. The exhaust system is an important part in getting better fuel economy throughout the life of the vehicle. It is used to remove the burned air-fuel mixture from the vehicle by reducing the impact of the toxic gasses.
If the exhaust smell is inside the vehicle cabin, a leak in the exhaust system is almost always the cause. A leak can develop anywhere in the exhaust system and this can result in a heavy exhaust smell in the vehicle. The leak can develop in the muffler, exhaust pipe or even the manifold.
Exhaust and emission components in your vehicle can fail for many reasons. This can be due to rust, corrosion, and overall wear and tear on the vehicle. It can result in engine damage, poor fuel economy, poor performance, heightened emission levels and other problems. Jefferson Auto Repair in West Orange, NJ will inspect your vehicle to repair the exhaust system and take the necessary steps to fix the issue.
Read more: Jefferson Auto Repair in West Orange, NJ Offers Exhaust System Repair
Details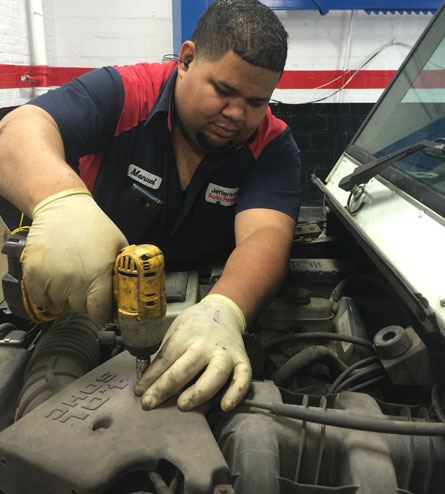 What is Engine tuning you may ask? It's an adjustment or a modification of the internal combustion engine or its control unit. It's also known as the ECU (Engine Control Unit). This helps your vehicle adjust to its optimal performance. Specifically, it increases your vehicle's engine's power output, economy, and durability. Jefferson Auto Repair in Montclair, NJ cares about serving their customers in the township of Montclair, NJ and Essex County, NJ. The auto mechanic team at Jefferson Auto Repair by helping them get their engines tuned-up.
Jefferson Auto Repair understands the importance of keeping your car at top performance. Drop off your vehicle and Juan along with his auto mechanics team will diligently work on ensuring we meet your automobile needs. The quality of auto repair work at Jefferson Auto Repair will leave you feeling confident and safe while driving on the road.
Engine tuning is a routine auto repair service conducted to yield optimal performance and is completed to meet the manufacturer's specifications. A tune-up includes the following:
Read more: Jefferson Auto Repair Services Engine Tuning for Montclair, NJ, Essex County, NJ
Details
If you live in the Montclair, NJ area or Essex County, NJ, we can service window and door lock repair for your vehicle. Then, come to Jefferson Auto Repair in West Orange, NJ, they will make sure that it is in the best condition ever. Why are window and door lock repair important for your vehicle? Well, power locks and windows are a great convenience, but also provided a huge safety feature. Juan and his staff at Jefferson Auto Repair in West Orange, NJ know that being able to lock and unlock your vehicle swiftly will save you from any kind of theft. Your windows play a big role in your safety while you are driving because being able to open your windows properly will allow the air to flow on hot days, which can help your engine to cool down.
Here is one (1) Sign that Your Power Windows and Locks are Failing:
1. Wired Sounding Windows – are your windows in your vehicle to slow to roll, or they don't move at all but start to make an awful squeak or wired sound? That might mean that there are debris in the window that are casing due to the leaks and even damaged seals can cause a big delay in opening and closing of your power windows.
Read more: Jefferson Auto Repair Provides Window and Door Lock Repair for the Town of Montclair, NJ