Details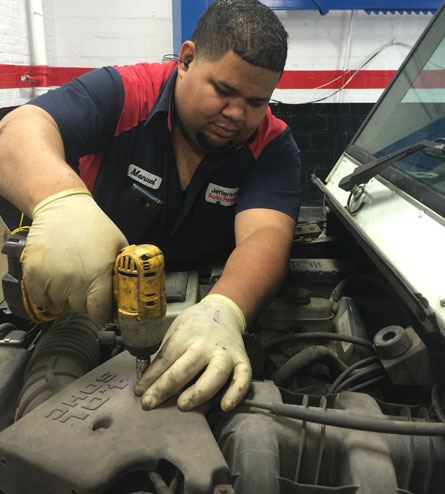 What is Engine tuning you may ask? It's an adjustment or a modification of the internal combustion engine or its control unit. It's also known as the ECU (Engine Control Unit). This helps your vehicle adjust to its optimal performance. Specifically, it increases your vehicle's engine's power output, economy, and durability. Jefferson Auto Repair in Montclair, NJ cares about serving their customers in the township of Montclair, NJ and Essex County, NJ. The auto mechanic team at Jefferson Auto Repair by helping them get their engines tuned-up.
Jefferson Auto Repair understands the importance of keeping your car at top performance. Drop off your vehicle and Juan along with his auto mechanics team will diligently work on ensuring we meet your automobile needs. The quality of auto repair work at Jefferson Auto Repair will leave you feeling confident and safe while driving on the road.
Engine tuning is a routine auto repair service conducted to yield optimal performance and is completed to meet the manufacturer's specifications. A tune-up includes the following:
Read more: Jefferson Auto Repair Services Engine Tuning for Montclair, NJ, Essex County, NJ
Details
If you live in the Montclair, NJ area or Essex County, NJ, we can service window and door lock repair for your vehicle. Then, come to Jefferson Auto Repair in West Orange, NJ, they will make sure that it is in the best condition ever. Why are window and door lock repair important for your vehicle? Well, power locks and windows are a great convenience, but also provided a huge safety feature. Juan and his staff at Jefferson Auto Repair in West Orange, NJ know that being able to lock and unlock your vehicle swiftly will save you from any kind of theft. Your windows play a big role in your safety while you are driving because being able to open your windows properly will allow the air to flow on hot days, which can help your engine to cool down.
Here is one (1) Sign that Your Power Windows and Locks are Failing:
1. Wired Sounding Windows – are your windows in your vehicle to slow to roll, or they don't move at all but start to make an awful squeak or wired sound? That might mean that there are debris in the window that are casing due to the leaks and even damaged seals can cause a big delay in opening and closing of your power windows.
Read more: Jefferson Auto Repair Provides Window and Door Lock Repair for the Town of Montclair, NJ
Details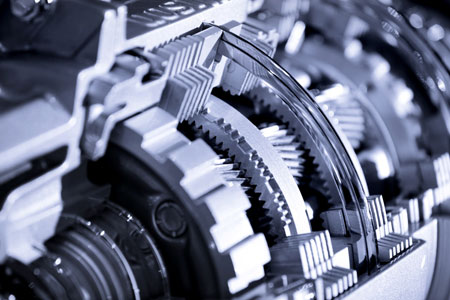 What is a transmission service you may ask? Well, it's a service that is part of your normal auto routine maintenance, and it's just like replacing the engine oil in your car. So, if you need to have transmission service and repairs done on your car then you should call Jefferson Auto Repair in West Orange, NJ at 973-736-7008 so that you can get it check out. Here are six (6) things that a complete transmission service should include:
1. Make sure to remove and examining the sump or pan. Where every possible.
2. Remember to replace or clean the screen or filter of the car
3. Making sure the pan is super clean
4. Reinstalling the pan with a bran new pan gasket
5. Pumping out all the rest of the old fluid in your car and replacing it with a bran new, and highly quality ATF.
6. By adding a friction modifier or even an additive package but the model has to be specific.
Read more: Transmission Service and Auto Repairs are Offered at Jefferson Auto Repair in West Orange, NJ
Details
Juan and his staff at Jefferson Auto Repair in West Orange, NJ want to make sure that all their customers ABS or Anti-lock Brake System are working properly. Because they know that this is an important auto part of the car.
For people that don't know what ABS or Anti-lock Brake System it's an auto part that helps keep your car from skidding dangerously during braking when you are driving on the road or on the highway. The best thing about this ABS or Anti-lock Brake System is that it's an automated safety system that helps recognize when your car wheels stop rotating even while it is still in motion and also releases the brake fluid pressure, and by doing this it allows the wheels on your car to keep on rotating.
Read more: Have Your ABS (Anti-lock Brake System) Checked Out at Jefferson Auto Repair in West Orange, NJ
Details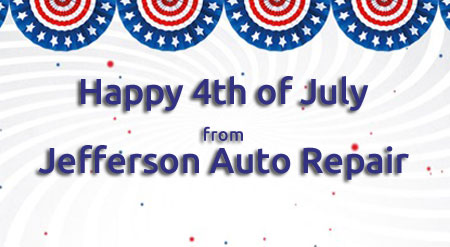 Fourth of July or (Independence Day) is just around the corner. It's a federal holiday in the United States that commemorates the Declaration of Independence that happened on July 4, 1776. Which helped the Continental Congress declared to say that the thirteen American colonies have regarded themselves as a new nation, which is the United States of America.
Due to the high temperatures typical of 4th of July holiday season, automobiles tend to brake down more on the road. That is where our auto mechanics can save the day.
We at Jefferson Auto Repair in West Orange, NJ have reliable towing and roadside service for your 4th of July holiday need.
Read more: Happy Fourth of July from Jefferson Auto Repair in West Orange, NJ